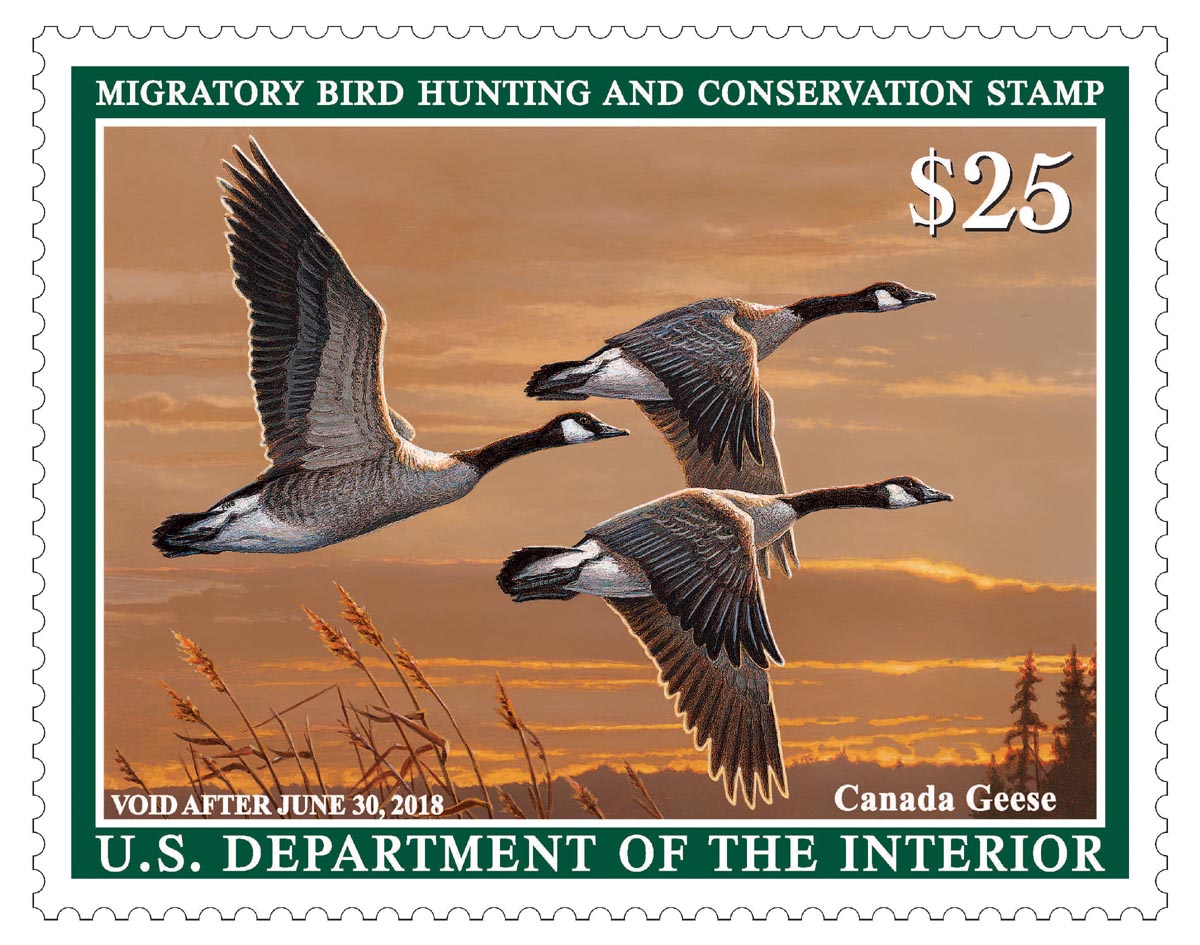 The new 2017-2018 Migratory Bird Hunting and Conservation Stamp, also known as the Duck Stamp, was released at a ceremony at Bass Pro Shops in Little Rock, Arkansas, on Friday, 23 June 2017.
James Hautman, a skilled wildlife artist from Chaska, Minnesota, had had his stunning artwork chosen last September to grace the current stamp. His work was chosen among 152 art pieces at a contest evaluated by five judges. This painting of three flying Canada Geese is now the third Duck Stamp to be priced at $25.
This is also the fifth time that Jim Hautman's waterfowl artwork appears on a Federal Duck Stamp. (He ties his brother, Joseph, in having artwork appearing five times on the stamp.) Jim's art previously appeared on the stamps for 1991-1992 (Black-bellied Whistling-Duck), 1995-1996 (Mallard), 1999-2000 (Greater Scaup), and 2011-2012 (White-fronted Goose).
The U.S. Fish and Wildlife Service produces the Migratory Bird Hunting and Conservation [Duck] Stamp, which sells for $25. The annual proceeds collected can run to nearly $42 million, depending, of course, on the number of stamps sold. The money goes to conserve wetland, bottomland, and grassland habitats for the National Wildlife Refuge System for the benefit of waterfowl as well as other birds and wildlife. Investments of stamp dollars have gone into securing habitat at 253 different National Wildlife Refuges and have helped preserve about three million additional acres in the smaller Waterfowl Production Areas (WPAs).
The Federal stamp program has existed since the mid-1930s. While waterfowl hunters, 16 years of age or older are required to purchase stamps in order to hunt migratory waterfowl, anyone can contribute to conservation by buying Duck Stamps. In addition to serving as hunting license and conservation tool, a current Federal Duck Stamp is also a free annual pass into any National Wildlife Refuge that charges an entry fee. Since all of the proceeds are used to conserve habitat for birds and other wildlife, birders, nature photographers, environmental educators, and other outdoor enthusiasts regularly buy Duck Stamps to help ensure that they can always enjoy wildlife at their favorite wild places.
Basically, buying a Duck Stamp is one of the simplest ways that anyone can support bird habitat conservation in this country. The program remains one of the most successful conservation tools ever created to protect habitat for birds and other wildlife. We invite you to learn more about the stamp and the stamp program by looking through our website.
One last thing: with the release of this new stamp, the Department of the Interior released a listing of five cool things about the Duck Stamp.