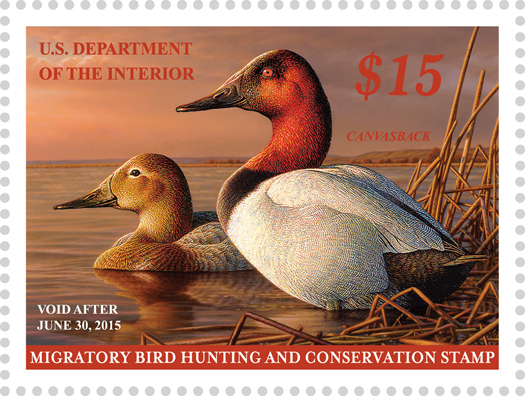 You are now able to buy –­ and display – your 2014-2015 Migratory Bird Hunting and Conservation Stamp, popularly called the "Duck Stamp." The 2014-2015 Stamp shows a lovely pair of Canvasbacks painted by Adam Grimm, an artist from South Dakota. Grimm's art previously appeared on the Federal Duck Stamp for 2000-2001. That image was of a Mottled Duck, and 1,698,780 stamps were sold, producing $25,481,700 of revenue to build the Refuge System.
The U.S. Fish and Wildlife Service produces the Migratory Bird Hunting and Conservation Stamp, which sells for $15 and raises about $25 million each year to provide critical funds to conserve and protect wetland and grassland habitats in the National Wildlife Refuge system for the benefit of wildlife and the enjoyment of people.
Since the 1930s, Stamps have contributed over $850 million and have helped to protect 5.5 million acres of habitat for wildlife and future generations. The Stamp itself functions as a federal license to hunt waterfowl for anyone over the age of 16. It's also important to remember that anyone who possesses a valid stamp is allowed free entry to any National Wildlife Refuge that may charge for entry.
Buying the stamp is perhaps the single simplest thing individuals can do to support a legacy of wetland and grassland conservation for birds. Almost all the stamp proceeds go to help secure valuable Refuge System habitats. The stamp, of course, is not something that will benefit only ducks. Many other bird species – from shorebirds to songbirds – are dependent on habitat secured through stamp purchases. The same could be said about the benefits to other wildlife – not only birds – and water quality.
This is a major refuge-building and conservation stamp!