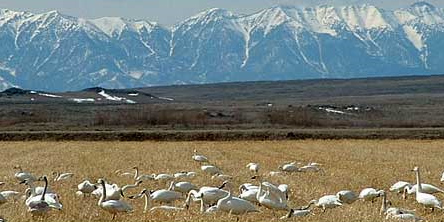 Our tour of National Wildlife Refuges begins in Idaho's Camas National Wildlife Refuge, in U.S. Fish & Wildlife Region 1. Situated near the hamlet of Hamer on a high plain (elev. 4800 feet) between the dramatic Grand Tetons to the east and the Lemhi range to the west, Camas comprises more than 10,000 acres of mostly lakes and marshlands, along with drier grass and sagebrush habitat in the uplands. 98.7% of its land was purchased via the MBCF.
It's an important stopover point for migrating Tundra and Trumpeter Swans and Snow Geese; a bird checklist for the refuge lists White-faced Ibis and Sandhill Crane as summer breeders. During spring and especially fall migration, hundreds of Wilson's Warblers can be seen. Camas Creek flows through the property; both take their name from the Camas Lily, a beautiful blue bloomer of May that has provided food and medicine to Native Americans.
Before the refuge was established in 1937, the marshes were used to raise muskrats for the fur trade; the name of today's Rat Farm Pond suggests that past. Some of the refuge's buildings and water control facilities were constructed by the Works Progress Administration. Water supply remains a concern; as the water table has declined, due to agricultural development and natural drought cycles, managers have resorted to wells and pumps to maintain surface water levels.
The refuge's friends organization has a released a charming and short YouTube tour featuring some of the avian sounds to be heard in Camas NWR. Among the many recreational opportunities, snowshoeing and cross-country skiing are encouraged, in the appropriate seasons.
---
This National Wildlife Refuge profile first appeared in the 16 September 2013 issue of Wingtips.