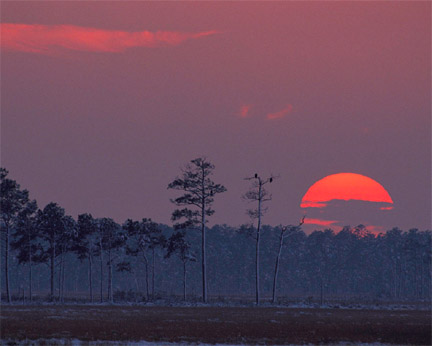 The Service's Region 5, in the Northeast, has many wonderful refuges. And Blackwater National Wildlife Refuge is one of the better-known refuges in the system, with its proximity to the Baltimore-Washington metro region and its depth and breadth of natural amenities. It's frequently named to top 10 lists of favorite refuges. Situated on the Eastern Shore of Chesapeake Bay, the 1933-established refuge consists of 28,072 acres of forest, marsh, and shallow water in Dorchester County, Maryand, south of Cambridge. Often called "the Chesapeake's Everglades," Blackwater contains one-third of the state's tidal wetlands. What is less well-known about the refuge is that 73.0% of those acres were purchased with MBCF/Stamp funds.
Blackwater is managed as part of the Chesapeake Marshlands National Wildlife Refuge Complex, which also includes Eastern Neck, Glenn Martin, and Susquehanna NWRs.
The refuge was one of those analyzed by Erin Carver and James Caudill in the 2013 report by USFWS's Division of Economics, Banking on Nature. In 2011, Blackwater received 82 thousand visits, 80% of them by non-residents. The authors compute an annual "total economic effect" of $3.7 million attributable to visitation by the public.
And there are certainly a number of activities for all those visitors to enjoy at the refuge. In addition to birding (70 thousand visits in 2011), Blackwater offers hiking and kayaking trails, a wildlife drive, limited hunting, and fishing and crabbing (from certain locations). In its 2006 Comprehensive Conservation Plan (CCP), staff called out environmental education, outreach, and interpretation activities as important management objectives.
Bird watching is a significant activity at Blackwater. The refuge is a major birding site on the Delmarva peninsula, and it is a regular stop for birders across the region.
Situated in the Atlantic Flyway, Blackwater fulfills a traditional NWR role of providing habitat for migrating and wintering ducks, geese, and other waterfowl. In addition, the property supports breeding Bald Eagles (it's in the greatest density of nesters north of Florida), Osprey, and long-lagged waders. The eagles are featured in an annual festival; look for the next one in March.
Of special interest is the Delmarva Fox Squirrel (Sciurus niger cinereus) (DFS): listed as an Endangered Species, the DFS is endemic to the Eastern Shore, and its largest natural population lives at Blackwater. Management efforts have built the population back up to about 20,000.
Other conservation management concerns include the loss of tidal wetlands to a combination of subsidence (probably due to groundwater pumping), sea level rise, and other factors. The refuge's sheltered abundance has also entailed too much of a good thing. A decade-long partnership to eradicate Nutria (an exotic semi-aquatic rodent) from the Bay watershed is progressing. The CCP plans to reduce the resident Canada Goose population to its 1989 level and to extirpate the Mute Swan population.
Blackwater NWR is well-documented in film and in print. David W. Harp and Tom Horton's The Great Marsh is a handsome collection of photographs and essays about the place. USFWS, in collaboration with Friends of Blackwater National Wildlife Refuge, released a 20-minute video in 2005. And earlier this year, John Kelly filmed his efforts to observe the rare DFS.
---
This National Wildlife Refuge profile first appeared in the 16 June 2015 issue of Wingtips.