We are delighted to present a small display of Stamp-related photos collected by or contributed to our Friends Group. All those wishing to promote the sales and appreciation of the Migratory Bird Hunting and Conservation [Duck] Stamp are welcome to use these photos – as long as there is credit for the photo and mention of the Stamp.
The categories of photos we have are the following:
THE FEDERAL DUCK STAMP CONTEST
THE JUNIOR DUCK STAMP
SIGNS AND POSTERS
HISTORIC
BIRDS AND ACTION ON REFUGES CREATED THROUGH STAMP FUNDS
ODDS AND ENDS
If you have a Stamp-related photo that you would like to share with us – and with other stamp supporters – please submit it to David Gorsline, webmaster (along with a credit line and a short sample caption). We will post the best and most appropriate shots for others to use and to enjoy.
THE FEDERAL DUCK STAMP CONTEST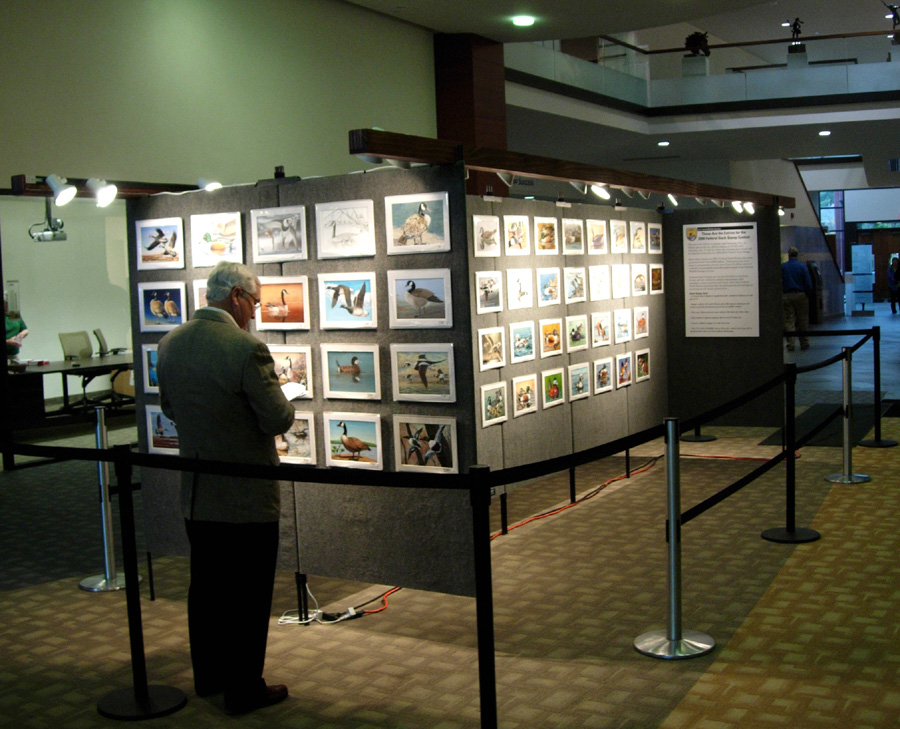 Reviewing the submitted Federal Duck Stamp Contest art at the Bloomington (MN) Art Center, October 2008.
Reviewing the submitted Federal Duck Stamp Contest art at the Bloomington (MN) Art Center, October 2008.
Caption: The audience and judges are seen here at the 2011 Federal Junior Duck Stamp Contest at at John Heinz National Wildlife Refuge at Tinicum, at the edge of Philadelphia. (The winning artwork, showing a pair of Ring-necked Ducks was by by Abraham Hunter,17, of Vienna, Illinois .)
Caption: This sign is at an emergent marsh at the Pondicherry Division of the Silvio Conte NFWR in Jefferson, New Hampshire. Cherry Mountain, part of the White Mountain National Forest, is in the background. Stamp dollars have gone through the MBCF to secure over a quarter of the Pondicherry Division
Caption: This is a set of Waterfowl Production Area (WPA) signs from South Dakota. A significant portion of Stamp dollars goes to secure WPAs. Approximately 95 percent of WPA grasslands and wetlands are in Minnesota, Montana, and the Dakotas.
Caption: In mid-2008, Kelly Blackledge from Tamarac National Wildlife Refuge in Minnesota, found a design company in Minneapolis, Banner Creations, to work on a stand-up banner – "It's not just for ducks!" – to help promote the Stamp to broader audiences.
Caption: This photo of a family watching birds at a Waterfowl Production Area (WPA) is probably from Minnesota. There are currently about 3 million acres in WPAs. A significant portion of Stamp fund go to secure WPAs on an annual basis.
Caption: Here's the judging for the 1951-52 Stamp. The winning image was a pair of Gadwall created by Maynard Reese. That $2 stamp raised $4,329, 534.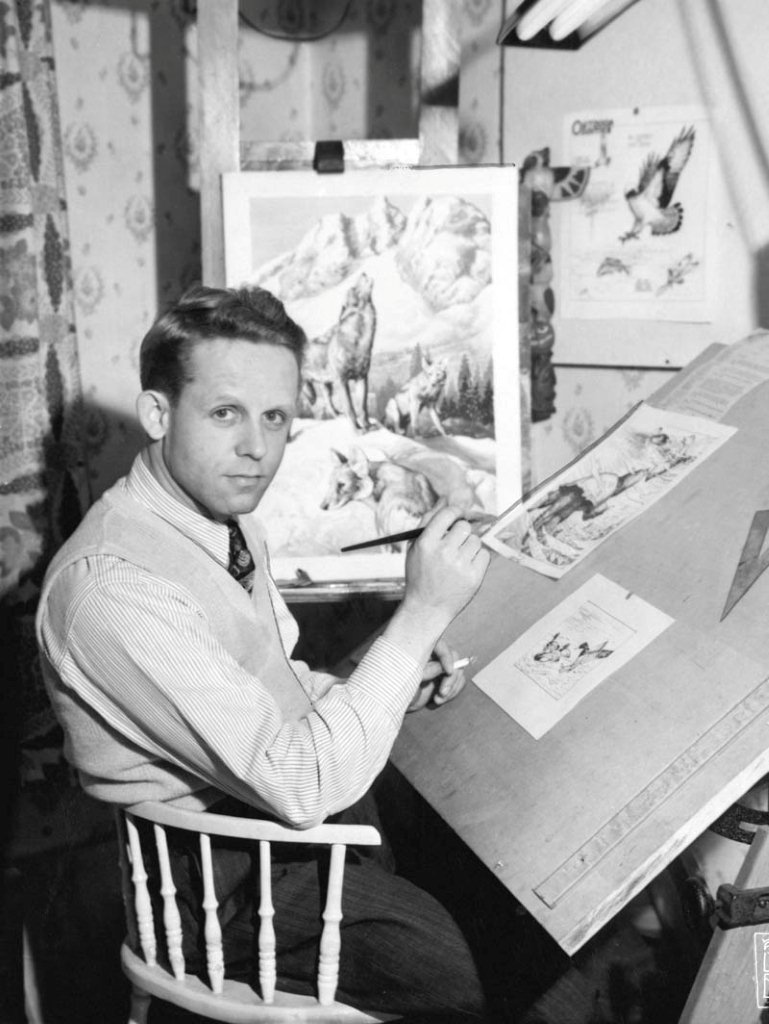 Caption: Bob Hines (1912-1994) was an extraordinary wildlife artist who served as the USFWS artist-illustrator in residence. He was asked to draw the 1946-1947 Migratory Bird Hunting [Duck] Stamp, and his enthusiastic dedication to the "Duck Stamp" led to a formal selection process with judges, standards, and clear rules for the art contest, starting in the early 1950s. He virtually ran the contest for some three decades.
Caption: Jay Norwood "Ding" Darling (1876 – 1962) was a Pulitzer-Prize winning American cartoonist who was appointed by FDR as head of the U.S. Biological Survey, the forerunner of the USFWS. During his short tenure at the Survey he oversaw vast changes, including giving the Migratory Bird Hunting Stamp a secure future. He famously drew the first Stamp (1934-5). There were 635,001 of those $1-stamps sold.
BIRDS AND ACTION ON REFUGES CREATED THROUGH STAMP FUNDS
Caption: Mallard (a pair shown here) may be the most recognizable waterfowl species in North America, from coast to coast. The species appeared on the first Federal Duck Stamp, an image that Ding Darling drew in about an hour for the 1934 Stamp. Mallard has only appeared four more times (1959, '61, '80, and '95).
Caption: Here is a handsome Black Phoebe on a refuge sign at Sacramento National Wildlife Refuge in central California. Fully 99.6 percent of this refuge was acquired through the Migratory Bird Conservation Fund (MBCF). The MBCF is where Stamp dollars are held prior to investment.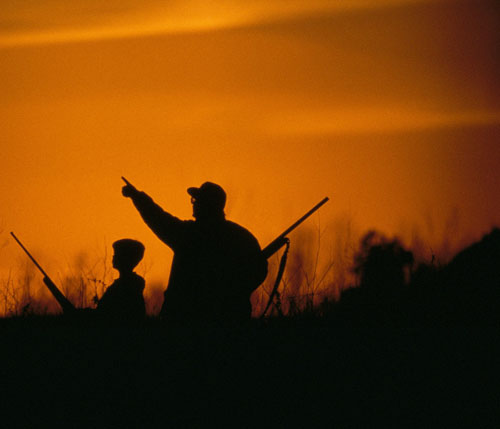 Caption: Waterfowl hunters have sustained the Stamp since its inception, in 1934. Indeed, the Stamp has become part of their proud tradition, one destined to be passed on to future generations. Still, waterfowl hunters cannot be expected to sustain the Stamp alone, especially since the benefits from the Stamp are passed on to all Americans. Others must step up.
Caption: The unmistakable Bald Eagle, the U.S> national symbol, was removed from the Endangered Species List after recovering from the negative impact of DDT. This photo was taken in Ohio at Ottawa NWR, a refuge where eagles nest and where 86% of the property has been acquired through MBCF dollars.
Caption: Franklin's Gull is an inland gull in North America, but one which migrates to spend winter along the Pacific Coast of South America. This photo was taken at Sand Lake NWR in South Dakota, a refuge where almost a fifth of the property was bought via MBCF dollars.
Caption: The bold and beautiful Kiskadee is certainly no duck, but its future was made more secure through Duck Stamp dollars spent to help buy 94.9% of Santa Anna NWR in the Lower Rio Grande Valley of Texas.
Caption: Almost all of Bosque del Apache NWR (99.2%) was bought with the expenditure of Stamp funds. This photo, showing just part of a large flock of Northern Pintails, was taken at that very New Mexico refuge.
Caption; This adult Sandhill Crane and its two chicks (called "colts") feel safe at Shelburne NWR in Minnesota. The wetland and grassland habitats that benefit ducks at Shelburne also benefit the cranes. Fully 99.6% of Shelburne was bought through Stamp dollars.
Caption: The elusive and lovely Sora is a rail that can find a safe plane to nest and raise young at Shelburne NWR in Minnesota. The stamp dollars that went to acquire 99.6% of the refuge surely didn't benefit only waterfowl; many other species have profited.
Caption: Cackling Geese that fledge at the Yukon Delta NWR – a refuge where this photo was taken but a refuge not created though Stamp investment – winter along the Pacific Coast, often at NWRs that have been acquired through Stamp dollars.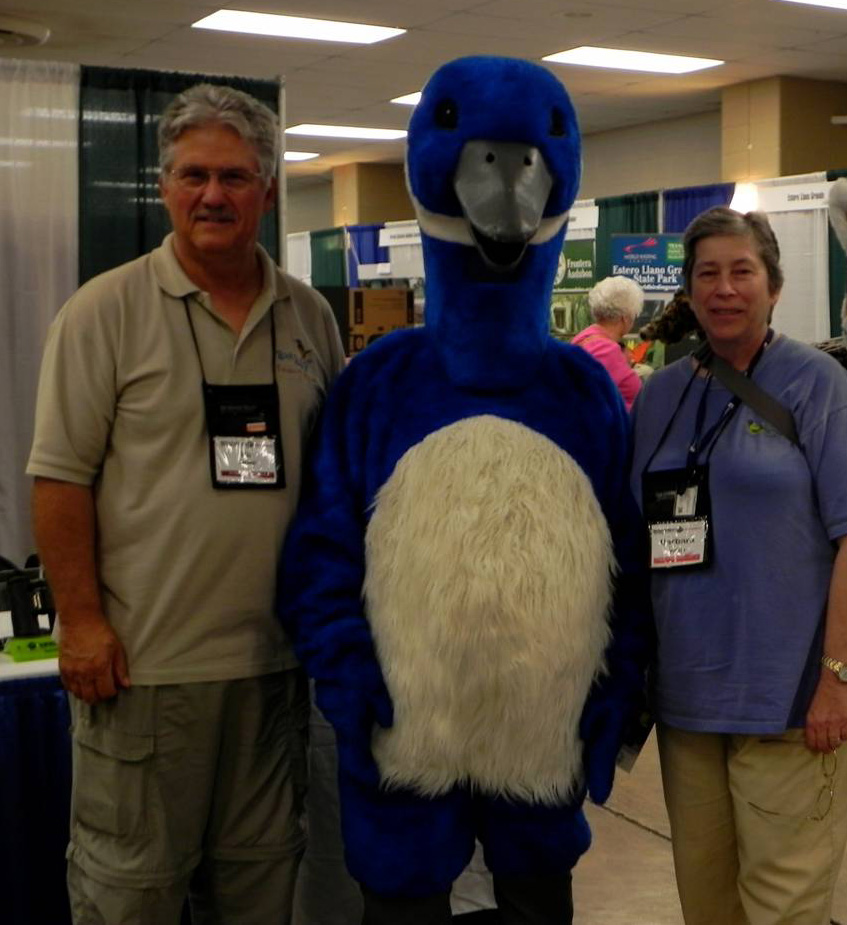 Caption: Friends of the Stamp board members Ric Zarwell (L) and Barbara Volkle (R), along with an unusually large example of the "Blue Goose" (C), at the 2012 Rio Grande Valley Birding Festival in Harlingen, Texas. From the Friends' booth at the festival, Barbara and Ric sold stamps, responded to a variety of birders' questions about the program, and generally raised awareness. Photo: Ric Zarwell.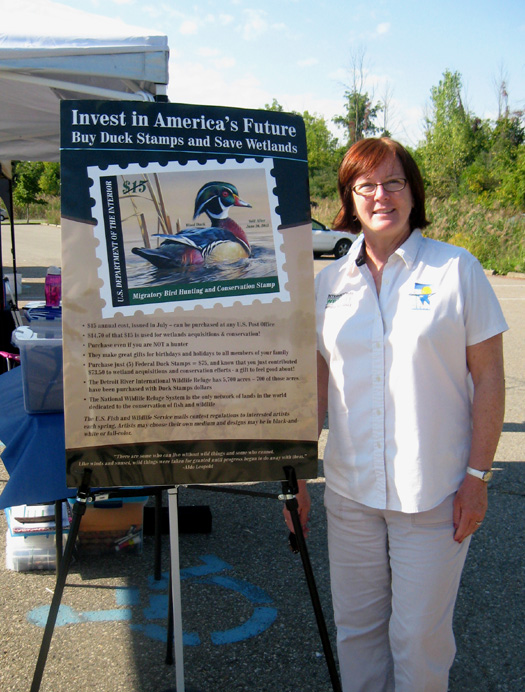 Caption: At the September 2012 "Hawkfest" at the Lake Erie Metropark (in the greater Detroit Area, Michigan), the friends group for the Detroit River International Wildlife Refuge had a booth. The friends group is officially called the International Wildlife Refuge Alliance. Besides the usual t-shirts, maps, flyers, and booklets at the IWRA table was a 2'x3' poster that their group made to promote the stamp. The photo of the poster is included here, with Joann Van Aken, Office Manager for the IWRA. The actual text of the poster may be difficult to see in this photo. It actually reads as follows:
Invest in America's Future
Buy Duck Stamps and Save Wetlands
• $15 annual cost, issued in July – can be purchased at any U.S. Post Office
• $14.70 of that $15 is used for wetlands acquisitions & conservation!
• Purchase even if you are NOT a hunter
• They make great gifts for birthdays and holidays to all members of your family
• Purchase just (5) Federal Duck Stamps = $75, and know that you just contributed $73.50 to wetland acquisitions and conservation efforts – a gift to feel good about!
• The Detroit River International Wildlife Refuge has 5,700 acres – 700 of those acres have been purchased with Duck Stamps dollars
• The National Wildlife Refuge System is the only network of lands in the world dedicated to the conservation of fish and wildlife
The U.S. Fish and Wildlife Service mails contest regulations to interested artists each spring. Artists may choose their own medium and designs may be in black-and-white or full-color.

Caption: In an effort to encourage the sale of the Stamp to non-hunters, Bob Hines created this certificate to display the 1950-60 Stamp. This was a push, at the end of hunting season in early 1960, to boost sales. (The sales had declined some 25 percent from the previous year.) Suitable for framing, the certificate was "signed" by Secretary of the Interior, Fred A. Seaton.
Caption: Here we have a Stamp-supporter picking up a Stamp at the St. Mary's, Alaska, Post Office on the first day of sale, 1 June 2006. St. Mary's, population 500, is one of three dozen towns and villages virtually imbedded in the Yukon Delta National Wildlife Refuge. Many shorebird species and waterfowl (e.g., Tundra Swans, Greater White-fronted Geese, and Cackling Geese) that fledge at the Yukon Delta NWR (a refuge that was not created though Stamp investment) are sustained in migration and wintering down the Pacific Coast at NWRs that have been acquired through Stamp dollars.
Caption: This is a Jim Beam Bourbon Whiskey bottle. "Beam's Duck Stamp Series Decanter – Second Edition – Mallards In Flight". It shows the Stamp for 1980-1981, a pair of Mallards by Richard Plasschaert.
Caption: Here are binoculars (Steiner "Peregrine" 8×44) with a plastic Stamp-holder containing a 2006-7 Stamp. This Stamp's artwork, showing Ross's Goose, was by Sherrie Russell Meline, only the second woman to win the Federal Duck Stamp Contest.