By John D. Juriga
Robert W. ("Bob") Hines (1912-1994) was a self-taught artist who specialized in wildlife and sporting art. He began his career at the Ohio Division of Conservation and Natural Resources in 1939. While living in Columbus, his Redhead design was chosen to grace the 1946 Migratory Bird Hunting Stamp. Hines later joined the U.S. Fish and Wildlife Service as staff artist in 1948.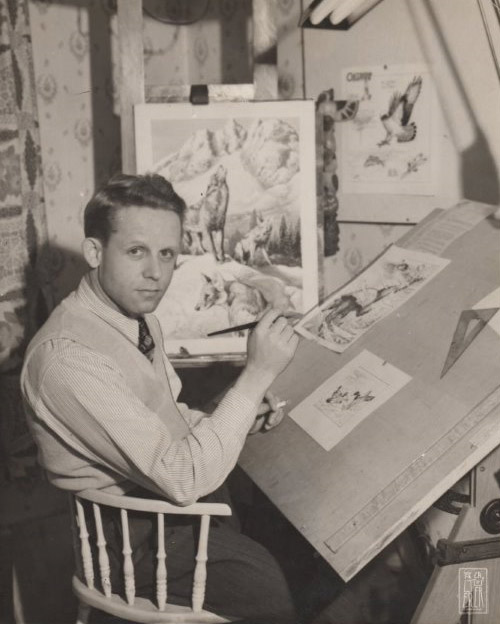 Already a Federal Duck Stamp artist himself, he was eager to observe the selection process for the annual stamp design. He was appalled at the casual, subjective manner then in place at the Service. Hines proposed a formal competition with stated guidelines and impartial judges, a format that remains in use today. He coordinated the yearly event for over thirty years, earning him the nickname of "Mr. Duck Stamp Contest."
Hines entered wildlife art in an effort to educate the public. He became the vehicle through which millions of Americans learned about their natural heritage. He illustrated such high profile publications for the Service as Ducks at a Distance, Waterfowl Tomorrow, Birds in Our Lives, Sport Fishing USA, and Migration of Birds. Hines also illustrated Rachel Carson's 1955 book The Edge of the Sea. He designed the first four US postage stamps depicting American wildlife in the mid-1950s. Hines is the only person in the history of the Service to hold the title of National Wildlife Artist.
In recent years, the Ottawa National Wildlife Refuge in northwest Ohio, close to Hines's boyhood home in Fremont, has opened a Bob Hines gallery as well as a Bob Hines Refuge Ranger Station. However, there is no tribute to Hines in the U.S. Department of Interior building in Washington, DC. I propose that the title of the Federal Duck Stamp contest be officially named the Bob Hines Memorial Federal Duck Stamp Contest to honor the shepherd of the annual event in its early years.
As Hines himself once wrote, "[T]he revenues from the stamp sales are all for the birds–the restoration of waterfowl. It does not matter which of us, hunter or birdwatcher, will benefit the most. What does concern us is that wildlife artists and technicians are using their skills to maintain the high aims of this unique series–to keep the flocks flying. May the artists and the ducks both flourish."
---
John D. Juriga is the Hines biographer, author of Bob Hines: National Wildlife Artist (2012, Beaver Pond Press).
---
A version of this article first appeared in the 4 April 2017 issue of Wingtips.