We recommend on this page a few products or tools that organizations or individuals can buy to help promote the Migratory Bird Hunting and Conservation [Duck] Stamp.
Stamp Holder: With current Stamp

Our Friends Group is making available plastic holders with the current Stamps inside. You can use them to display your support for the Stamp and the Refuge System. Use holders with Stamps on your backpack, your binocular strap, your jacket zipper, your keychain, whatever. The back side of the plastic holder will show the logo of our Friends Group.

You can order your holder and Stamp from us using this form. The cost is $29 for the first holder with the current stamp, $26 for each additional holder with the current Stamp.
You can purchase up to 15 holders without stamps, directly from us. The cost is $1.50 each for up to 4 holders, and $1.00 each for additional holders, up to 15 holders. Make the check out to the "Friends of the Migratory Bird/Duck Stamp" and send it to us at P.O. Box 2143, Columbia, MD 21045.
You can buy blank holders for your group or sales venue directly and in bulk. One recommended vendor runs an eBay shop under the name WKY8525. This vendor's item identifier for the holder is "#92033 acrylic keychain," and the stamp fits in exactly. (Check vendors for the best price for the number of holders you wish to purchase.)
A number of other organizations also offer Stamps for sale, with and without holders.
Retractable Banner: 'It's not just for ducks'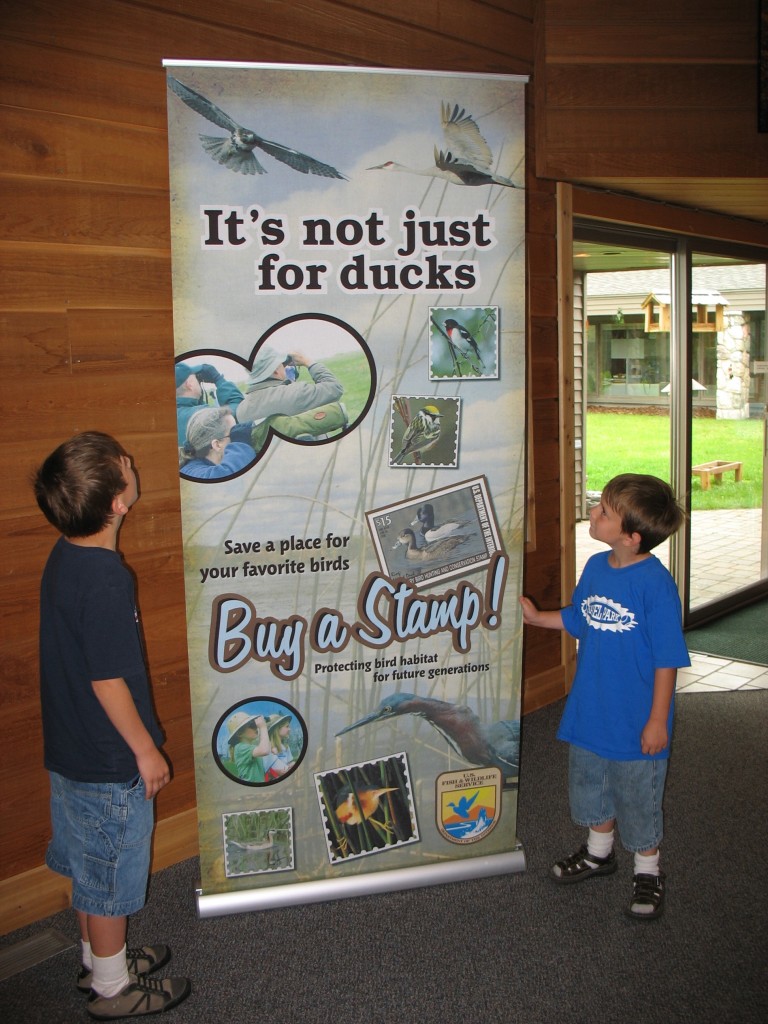 In mid-2008, Kelly Blackledge from Tamarac National Wildlife Refuge in Minnesota, approached a design company in Minneapolis to prepare a stand-up banner to help promote the Stamp to broader audiences. The idea was to present to the public the message that the Duck Stamp was not just for ducks, that buying the Stamp was a great way to "save a place for your favorite birds." The result was a seven-foot high, three-foot wide, retractable banner seen here and prepared by Banner Creations Inc. This banner, of canvas material made of 100% post-consumer soda bottles, has been bought by a number of refuges and friends groups across the country.
The price is $389 plus $30 for shipping. It will be shipped by Banner Creations in 6-10 working days. To secure the order, instead of going throught the regular process simply call BCI with a credit card at 612-871-1015.
All the details, including the cost for changing any graphic elements on the banner, can be found here.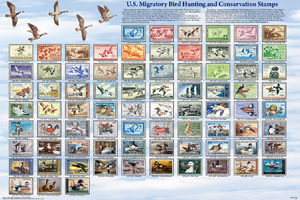 You can buy quantities of this fine poster (either laminated or not) from Feenixx Publishing. The poster shows almost all the stamps, up to about three years ago. There is also a very good accompanying description on the stamp's history and purpose.
These are sold wholesale only, which means that your group has to buy at least $100-worth of them. (For example, if you buy 14 laminated posters, that comes to about $102, and with added shipping, $110.)
You can reach Feenixx by phone at 855-333-6499, and they can charge the posters to your credit card.