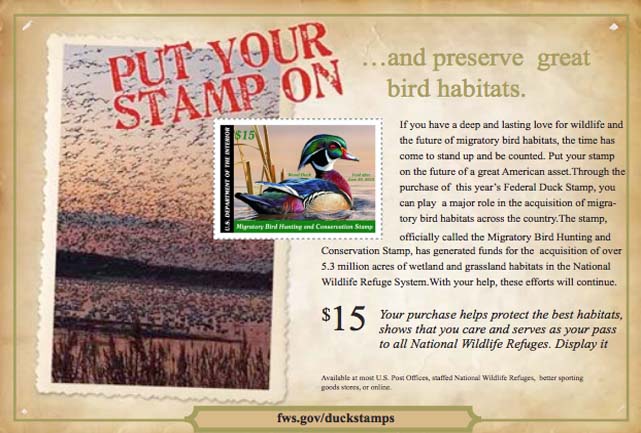 There are many ways to help support the growth and appreciation of the Migratory Bird Hunting and Conservation [Duck] Stamp. The print public service announcement (PSA) for the Stamp shown here is just one way. There are many others we recommend for your consideration.
Join our Friends Group and support its work.
Don't just buy the Stamp, display it. Get a stamp in a plastic holder for your personal use, or purchase blank holders in bulk for your organization, club, or group.
Stay connected!
See the many materials that are available to help support the Stamp, including posters, the PSAs and a listing of the "top ten reasons" to buy the Stamp.
You and your refuge friends group, duck club, birding club, or photography club can sell Stamps. The best way is through consignments from Amplex.
Write an article in support of the Stamp for your nature/bird/hunting organization, using materials provided here.
Except where noted, web site content by Friends of the Migratory Bird/Duck Stamp is licensed under a Creative Commons Attribution-ShareAlike 4.0 International License.
This license allows sharing and a right to adapt the written materials, with appropriate credit.
Read even more: follow our links for related information and activities to support the Stamp.
Let us know what you think and how we can all do better to advance the cause of the Stamp.
Let us know if you want a speaker at your event, convention, conference, to speak on the importance of the Stamp.