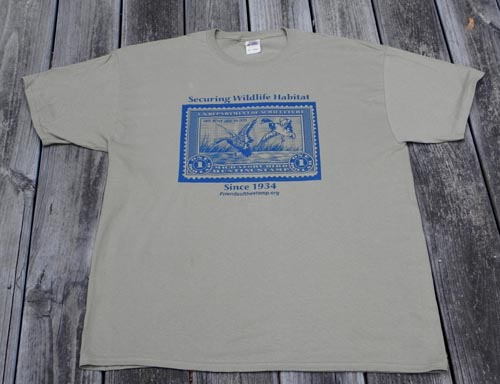 The Friends of the Migratory Bird/Duck Stamp has a new stamp-support t-shirt. It features an image of the classic first stamp, with the wonderful artwork by Jay Norwood "Ding" Darling. The message on the shirt is simple – "Securing Wildlife Habitat Since 1934." Through the t-shirt, we wish to spread the word about the unique role that the Migratory Bird Hunting and Conservation [Duck] Stamp provides.
The price ($11.20 plus shipping and handling) is being kept as low as possible, to get the t-shirt in the hands – and on the backs – of bird advocates and conservationists across the country.
Our t-shirts come in traditional men's style only, in sizes S, M, L (supply is limited), and XL (sorry, no more 2XLs).
This t-shirt may be just what you are looking for in the way of the perfect gift this holiday season! Order now, or get more information about this great shirt.