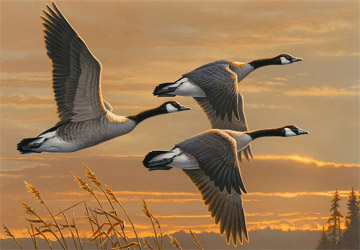 James Hautman, a skilled wildlife artist from Chaska, Minnesota, became the winner of the 2016 Federal Duck Stamp Art Contest on September 10. His winning painting was chosen among 152 art pieces by five judges at the contest, an event held at the Academy of Natural Sciences in Philadelphia.
Jim Hautman's acrylic painting of three flying Canada Geese will be made into the 2017-2018 Federal Migratory Bird Hunting and Conservation Stamp, or "Duck Stamp," which will go on sale in late June, 2017. This is actually Jim Hautman's remarkable fifth Federal Duck Stamp Contest win, tying him with his brother, Joseph. His art previously appeared on the stamps for 1991-1992 (Black-bellied Whistling-Duck), 1995-1996 (Mallard), 1999-2000 (Greater Scaup), and 2011-2012 (White-fronted Goose).
Rebekah Knight of Appleton City, Missouri, placed second in the contest with her acrylic painting of a single Brant. She has been captivated by the program at least since she won the National Junior Duck Stamp Contest, with a Redhead appearing on the 2006-2007 Junior Duck Stamp.
And the third place winner was Robert Hautman of Delano, Minnesota, with his acrylic painting of a pair of Canada Geese. Robert, brother of James and Joseph, previously won the contests for the 1997-1998 and 2001-2002 stamps.
Eligible species for this year's Federal Duck Stamp Contest were Canada Goose, Brant, Northern Shoveler, Red-breasted Merganser, and Steller's Eider.
The five judges for this year's Federal Duck Stamp Contest were Jan Martin McGuire, an internationally renowned wildlife artist; Keith Russell, program manager for urban conservation with Audubon Pennsylvania; Dr. Nathan H. Rice, Ornithology Collection Manager at the Academy of Natural Sciences; John P. Booth, executive director of the Ned Smith Center for Nature and Art; and Sue deLearie Adair, an artist, birder, and avid naturalist.
The U.S. Fish and Wildlife Service produces the Migratory Bird Hunting and Conservation [Duck] Stamp, which currently sells for $25. The annual proceeds range from $25 million to nearly $42 million, depending on the price of the stamp. The proceeds go to conserve wetland, bottomland, and grassland habitats for the National Wildlife Refuge System for the benefit of waterfowl as well as other birds and wildlife. Investments of stamp dollars have gone into securing habitat at 253 different National Wildlife Refuges and have helped preserve about three million additional acres in smaller Waterfowl Production Areas (WPAs)
In addition, 2016 as been a particularly significant year for bird conservation in that the year marks the centennial celebration of the first Migratory Bird Treaty, which was signed between the United States and Great Britain (for Canada) in 1916.