The U.S. Fish and Wildlife Service conducted the Federal Duck Stamp Art Competition at Maumee Bay State Park Conference Center in Oregon, Ohio, on September 27-28. This art contest is the only legislatively mandated federal art competition in the country. Thousands of wildlife artists have entered the contest since the first open competition in 1949. A panel of art, waterfowl, and philatelic authorities usually judges the artwork and selects the image to be used for the next stamp.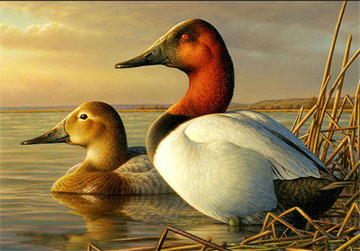 Adam Grimm, of Burbank, South Dakota, won the art competition in Ohio, when his oil painting of a pair of Canvasbacks was judged the best of 201 entries. Eligible species for the contest this year included Blue-winged Teal, Cinnamon Teal, Gadwall, Mallard, and Canvasback. Canvasback appeared on 48 of the 201 art submissions, or about a quarter of the pieces. The species has appeared four times on the stamp, most recently in 1993.
Canvasback (Aythya valisineria) is an elegant and distinctive duck, as the artwork shows. Its sloping head profile is distinctive. Canvasback numbers in North America have fluctuated widely over the decades, often due to changing water levels on the breeding grounds. The Canvasback population is currently rebounding, from a difficult period of low numbers (early 1980s to the mid-1990s).
With his Canvasback artwork for the 2014-2015 stamp, Adam Grimm has now become a two-time winner of the contest. His impressive painting of a Mottled Duck appeared on the 2000-2001 stamp. The breadth of Adam Grimm's artwork can be viewed in this showcase.
The Migratory Bird Hunting and Conservation Stamp – commonly called the Federal Duck Stamp and increasingly called the Migratory Bird Stamp – raises about $25 million annually. Proceeds from the sale of the stamp are used to buy or lease wetlands and associated upland habitats for inclusion in the National Wildlife Refuge System. Waterfowl hunters, bird watchers and other outdoor recreationists, art and stamp collectors, and many other people who wish to invest in wetland and grassland conservation buy these stamps.